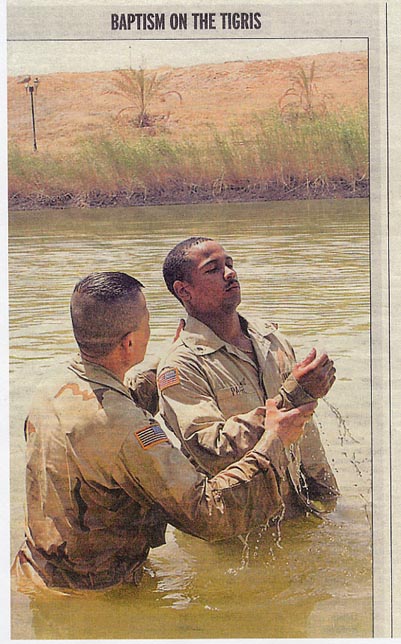 "Spc. Barry Page dipped into the waters of the Tigris River to get baptized by Army Chaplain Capt. Xuan Tran on the banks of the sprawling U.S. miltary headquarters. "I realized death is walking in this place," said the 22 year old from Houston, Texas"


Links
PRO-LIFE
Slavery is repulsive because it treats human beings as property to be
disposed of at the will of another. It was morally absurd in the 18OO'S to
say: "I AM PERSONALLY OPPOSED TO OWNING SLAVES AND WOULD NEVER OWN ANY
MYSELF, BUT I CAN'T FORCE MY MORAL VIEWS ON OTHERS." Today people use the
same argument regarding abortion. Slavery was wrong then and abortion is
wrong now.
"Without the generosity of my blood Brother-In-Christ Mike this site would not be possible." Best, George